« Return to Previous Page
Glass Beaded Nesting Baskets Set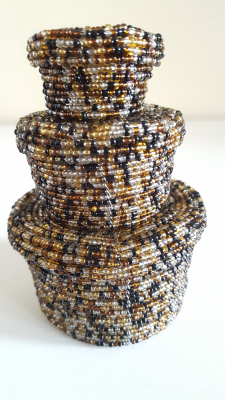 Glass Beaded Nesting Baskets Set
---
Beautiful handmade, glass beaded nesting baskets.
---
---
Description

Product Description

Glass Beaded Nesting Baskets are handmade in Kenya. Beads are attached by wire and are very sturdy. They come as a set of three. The largest measures 3″ x 2″. The medium size measures 2.5" x 1.5" and the smallest measures 1.5" x 1". These nesting baskets can hold your treasures or they can be used to put gifts in and be given to a friend. Beaded baskets are a One of a Kind and they are made up of multi colored, black, gold, brown and silver glass beads

What We Do

Our Products

Aina Moja is Kiswahili for "one of a kind". Each item is uniquely hand-made by African artists and therefore, one of a kind. Due to the fact that each item is handmade, actual item may vary slightly from product image.

Aina Moja products are sold at art and craft fairs throughout the summer and fall as well as in the Aina Moja shop in Belfast, Maine.

Aina Moja is a member of Fair Trade Gifts and is part of the Artisan Support project of Expanding Opportunities, a 501(3)c organization.

Our Money

Our items are purchased directly from artisans in Kenya, Africa and not at tourist stations. The purchase of the items supports individuals and families in Kenya.

Proceeds from sales of the items at Aina Moja help support the projects of Expanding Opportunities, including the Street Children Fund, STEMS, Camp Forest, Friends Across the Ocean, Books for Kenya, and Distance Learning Centers. Expanding Opportunities has the greater mission of increasing self-sufficiency through educational and charitable projects for people nationally and internationally.