« Return to Previous Page
Banana Fiber Wall Hanging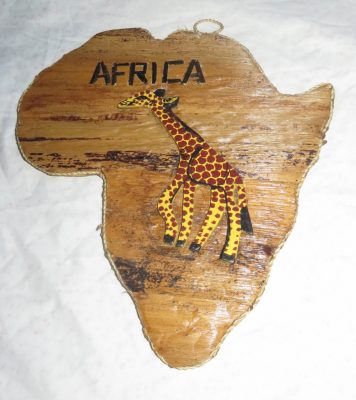 Banana Fiber Wall Hanging
---
Map of Africa wall hanging. Made of Banana fiber in Kenya.
This map of Africa measures 10 inches from top to bottom and 8.2 inches in width.
---
---
Description

Product Description

When bananas are harvested the stem is cut.  It is the size of a small tree.  Being creative and frugal as well as looking for a way to increase income, a use for this stem would naturally arise .  Bananas are a large grass so the stems can be peeled and the peelings laid out to dry, the leaves can be laid out to dry; the stems and leaves can be stripped and woven into cordage; the stems can be pulped and made into paper.   As the leaves and stems are dried a variety of earthy tan, brown and black appears.

To create the map, cardboard is cut to the shape of Africa and the fibers glued and stitched to the cardboard.  Different colors of banana fiber and occasionally paper is painted as in the Giraffe and/ or cut and pasted to create shapes, words or figures.  A fiber hanging loop is added to the back side to use a picture hook to hang.

This map of Africa measures 10 inches from top to bottom and 8.2 inches in width.

A purchase through Aina Moja supports the artist and the projects of  Expanding Opportunities, a 501c3 in USA and a registered NGO in Kenya.

Remember FREE SHIPPING in the continental USA.

What We Do

Our Products

Aina Moja is Kiswahili for "one of a kind". Each item is uniquely hand-made by African artists and therefore, one of a kind. Due to the fact that each item is handmade, actual item may vary slightly from product image.

Aina Moja products are sold at art and craft fairs throughout the summer and fall as well as in the Aina Moja shop in Belfast, Maine.

Aina Moja is a member of Fair Trade Gifts and is part of the Artisan Support project of Expanding Opportunities, a 501(3)c organization.

Our Money

Our items are purchased directly from artisans in Kenya, Africa and not at tourist stations. The purchase of the items supports individuals and families in Kenya.

Proceeds from sales of the items at Aina Moja help support the projects of Expanding Opportunities, including the Street Children Fund, STEMS, Camp Forest, Friends Across the Ocean, Books for Kenya, and Distance Learning Centers. Expanding Opportunities has the greater mission of increasing self-sufficiency through educational and charitable projects for people nationally and internationally.