« Return to Previous Page
Embroidered Shipibo Shirt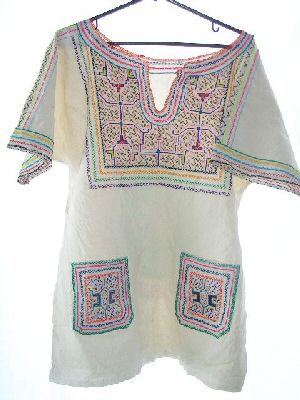 Embroidered Shipibo Shirt
---
Hand embroidered shirt in the typical Shipibo design with embroidery on front, back and sleeves in 100% unbleached cotton.
---
---
Description

Product Description

Hand Embroidered Shipibo Shirt

The shirt is hand embroidered both front and back with a wide variety of stitches.  The front has a hand embroidered V neck trimmed with a blanket stitch.  The frontice piece measures 13 1/2″ X 14″ of hand embroidery in beautiful Shipibo design. The sleeves are also trimmed with embroidery.

On the back of this shirt is a 13″ diameter circular panel of hand embroidered art.  Four straight chain stitch spines radiate from a tri-circle center, dividing the circle into eight pieces of traditional twisting Shipibo art. This is not only wearable art but frameable art. One of a Kind, it is a 100% unbleached cotton shirt.

Shipibo design is a mixture of geometric patterns. Although the meaning of the designs has been lost, anthropologists theorize that the designs could be a form of language, or that they represent the twisting rivers and canals.  The Shipibo design seems to be a communal art as one woman could stop her work and another could continue with no disruption in the pattern.

This is truly wearable art. Hand wash with a gentle cleanser.  Line dry and steam iron lightly as needed.

What We Do

Our Products

Aina Moja is Kiswahili for "one of a kind". Each item is uniquely hand-made by African artists and therefore, one of a kind. Due to the fact that each item is handmade, actual item may vary slightly from product image.

Aina Moja products are sold at art and craft fairs throughout the summer and fall as well as in the Aina Moja shop in Belfast, Maine.

Aina Moja is a member of Fair Trade Gifts and is part of the Artisan Support project of Expanding Opportunities, a 501(3)c organization.

Our Money

Our items are purchased directly from artisans in Kenya, Africa and not at tourist stations. The purchase of the items supports individuals and families in Kenya.

Proceeds from sales of the items at Aina Moja help support the projects of Expanding Opportunities, including the Street Children Fund, STEMS, Camp Forest, Friends Across the Ocean, Books for Kenya, and Distance Learning Centers. Expanding Opportunities has the greater mission of increasing self-sufficiency through educational and charitable projects for people nationally and internationally.