« Return to Previous Page
Hand Forged Cow Bell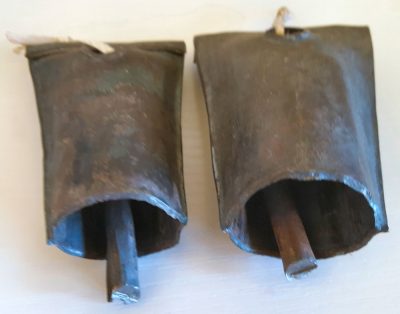 Hand Forged Cow Bell
---
Hand forged cow bell made from metal with various strikers. Each has a pleasantly unique sound due to size and striker variations.
---
---
Description

Product Description

In the far end of the Market in Isiolo behind the sellers of fruits, vegetables and household goods is a shed with a gathering of men around small fires. Hot coals and anvils and the sound of hammer on hot steel informs you that you are at the workshop of the Umoja Youth Group and Others. They collect recycled steel and aluminum, cow horn and plastic pipe, and real and synthetic leather to craft knives, bells and spears.

What We Do

Our Products

Aina Moja is Kiswahili for "one of a kind". Each item is uniquely hand-made by African artists and therefore, one of a kind. Due to the fact that each item is handmade, actual item may vary slightly from product image.

Aina Moja products are sold at art and craft fairs throughout the summer and fall as well as in the Aina Moja shop in Belfast, Maine.

Aina Moja is a member of Fair Trade Gifts and is part of the Artisan Support project of Expanding Opportunities, a 501(3)c organization.

Our Money

Our items are purchased directly from artisans in Kenya, Africa and not at tourist stations. The purchase of the items supports individuals and families in Kenya.

Proceeds from sales of the items at Aina Moja help support the projects of Expanding Opportunities, including the Street Children Fund, STEMS, Camp Forest, Friends Across the Ocean, Books for Kenya, and Distance Learning Centers. Expanding Opportunities has the greater mission of increasing self-sufficiency through educational and charitable projects for people nationally and internationally.