« Return to Previous Page
Job's Tears and Ipil ipil seed Necklace from Peru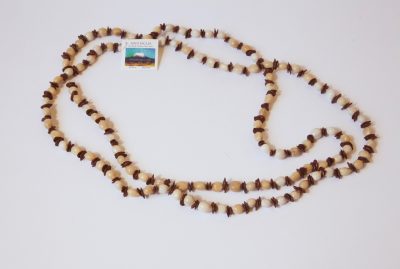 Job's Tears and Ipil ipil seed Necklace from Peru
---
Job's tears is an ancient cereal grain.  It makes an impressive border grass growing to 6′ tall.  The seeds have been used in jewelry making for centuries.  They are said to represent the tears that Job shed during his great trials.  The seeds are collected green and allowed to dry to a dreamy pearl or dark brown color.
Ipil ipil is a small tree in the mimosa family. The cocoa brown seeds are harvested and dried. a hold is made in the middle to string  into natural jewelry.
Together they make a stunning contract of brown and white.
These necklaces are in three sizes.  28.5″, 21.5″ and 18.5″.
Remember FREE SHIPPING in the continental USA.
---