« Return to Previous Page
Multi-Colored 4 Strand Beaded Bracelet – Fair Trade- Hand Made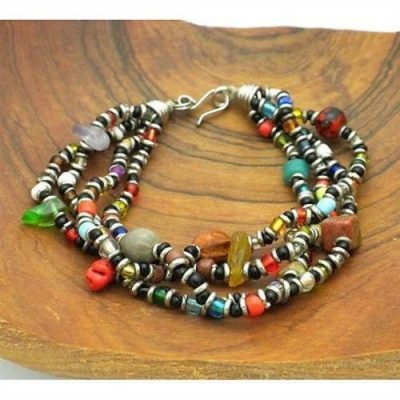 Multi-Colored 4 Strand Beaded Bracelet – Fair Trade- Hand Made
---
Multicolored 4 strand beaded bracelet. Made in Kenya as sustainable income and recycling project.
---
---
Description

Product Description

Wearing this beautiful bracelet sets you apart as an important supporter of opportunity in the slums of Kenya where opportunity is scarce. These bracelets are beaded by hand with colorful beads by 15 young men and women who find a sustainable income and a path out of the Nairobi slums. The four strand bracelet is about 8 inches in length.

Working with Jedando Modern Handicrafts the young men and women of Zakali Jewelry produce handmade fair trade fashion jewelry using the skills of wire work and electroplating. The project first started as a garbage collection project in the slums of Nairobi, Kenya. Recycling remains very close to the heart of the project and much of the material used is reclaimed or recycled, including the cord found inside of tires, which is used to string beads.

What We Do

Our Products

Aina Moja is Kiswahili for "one of a kind". Each item is uniquely hand-made by African artists and therefore, one of a kind. Due to the fact that each item is handmade, actual item may vary slightly from product image.

Aina Moja products are sold at art and craft fairs throughout the summer and fall as well as in the Aina Moja shop in Belfast, Maine.

Aina Moja is a member of Fair Trade Gifts and is part of the Artisan Support project of Expanding Opportunities, a 501(3)c organization.

Our Money

Our items are purchased directly from artisans in Kenya, Africa and not at tourist stations. The purchase of the items supports individuals and families in Kenya.

Proceeds from sales of the items at Aina Moja help support the projects of Expanding Opportunities, including the Street Children Fund, STEMS, Camp Forest, Friends Across the Ocean, Books for Kenya, and Distance Learning Centers. Expanding Opportunities has the greater mission of increasing self-sufficiency through educational and charitable projects for people nationally and internationally.