« Return to Previous Page
Recycled Flip Flop Giraffe: Sassy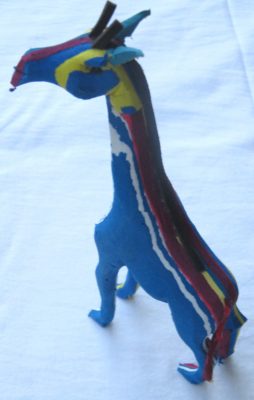 Recycled Flip Flop Giraffe: Sassy
---
These whimsical toy animals are a work of Art.  They're made from recycled Flip Flops.
---
---
Description

Product Description

These whimsical toy animals are a work of Art.  They're made from recycled Flip Flops. The number of discarded flip flops in Kenya is staggering!  The beaches at Mombasa were littered with them.  The beaches needed to be pristine.  Creative Kenyans saw an opportunity.  They collected the flip flops washed and sanitized them then began creating!

Each Flip Flop animal is unique.  They each carry the colors of  combined flip flops.   They are made and purchased in Kenya at Fair Trade.  Watch this short video about the beginnings and creation of Recycled Flip Flop creations. https://www.facebook.com/60SecondDocs/videos/1580058008758986/UzpfSTU3NDQ4ODgzMjYzODI5NzoxODc0Nzc2ODIyNjA5NDg1/

This one was named Sassy.  She stands 8″ high.   Just look at those eyes!

FREE SHIPPING in the continental USA

A purchase through Aina Moja supports the artist and the projects of  Expanding Opportunities, a 501c3 in USA and a registered NGO in Kenya.

What We Do

Our Products

Aina Moja is Kiswahili for "one of a kind". Each item is uniquely hand-made by African artists and therefore, one of a kind. Due to the fact that each item is handmade, actual item may vary slightly from product image.

Aina Moja products are sold at art and craft fairs throughout the summer and fall as well as in the Aina Moja shop in Belfast, Maine.

Aina Moja is a member of Fair Trade Gifts and is part of the Artisan Support project of Expanding Opportunities, a 501(3)c organization.

Our Money

Our items are purchased directly from artisans in Kenya, Africa and not at tourist stations. The purchase of the items supports individuals and families in Kenya.

Proceeds from sales of the items at Aina Moja help support the projects of Expanding Opportunities, including the Street Children Fund, STEMS, Camp Forest, Friends Across the Ocean, Books for Kenya, and Distance Learning Centers. Expanding Opportunities has the greater mission of increasing self-sufficiency through educational and charitable projects for people nationally and internationally.