« Return to Previous Page
Red Star Hand Carved Hand Painted Soapstone Egg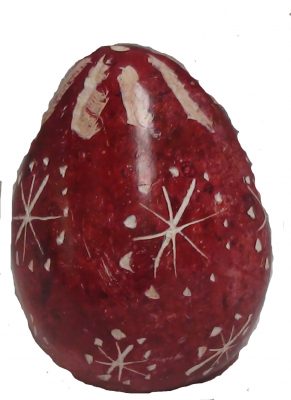 Red Star Hand Carved Hand Painted Soapstone Egg
---
This egg is 1 1/2 inches in circumference at the widest and 2″ long.  It is finished with a painted and etched star design
---
---
Description

Product Description

Our Soapstone Eggs are finished by a lovely group of ladies at the equator in Mogotio, Kenya.  The soapstone is mined from great pits in the area surrounding Kiisi, Kenya. The mined soapstone is then delivered to carvers who carve sculptures from the natural stone for the wholesale market, the color of which ranges from cream, to pink, to brown, to yellow, to black, to a marbling of all of them. Once carved into a rough egg shape, the craftspeople at the equator smooth rough edges of the soapstone with sandpaper dipped in water . A few pieces are sanded and polished and kept as nautural soapstone eggs.  These are often used to "fool" the brooding chicken to think that you didn't just take her egg for the breakfast table.  Most of the stone eggs are dyed a variety of colors. Then the artist decides to either paint designs in bright colors on the piece or with a small nail file etch  African motifs. The piece is then highly polished with a wax.
All of the soapstone products we sell are completely handmade.   To keep your product shining simply add a bit of floor wax and polish with a soft cloth.  The sun might fade the colors so tempting as it might be, keep them out of the window sill.

This egg is 1 1/2 inches in circumference at the widest and 2″ long.  It is finished with a painted and etched star design.

What We Do

Our Products

Aina Moja is Kiswahili for "one of a kind". Each item is uniquely hand-made by African artists and therefore, one of a kind. Due to the fact that each item is handmade, actual item may vary slightly from product image.

Aina Moja products are sold at art and craft fairs throughout the summer and fall as well as in the Aina Moja shop in Belfast, Maine.

Aina Moja is a member of Fair Trade Gifts and is part of the Artisan Support project of Expanding Opportunities, a 501(3)c organization.

Our Money

Our items are purchased directly from artisans in Kenya, Africa and not at tourist stations. The purchase of the items supports individuals and families in Kenya.

Proceeds from sales of the items at Aina Moja help support the projects of Expanding Opportunities, including the Street Children Fund, STEMS, Camp Forest, Friends Across the Ocean, Books for Kenya, and Distance Learning Centers. Expanding Opportunities has the greater mission of increasing self-sufficiency through educational and charitable projects for people nationally and internationally.