« Return to Previous Page
Seeing Double: Jacob's Tears Bracelet: Made in Peru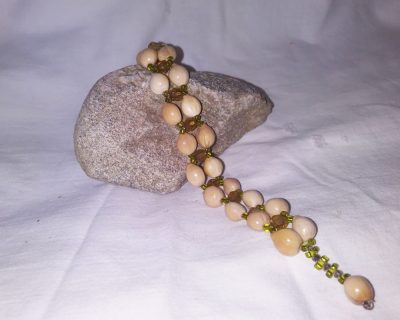 Seeing Double: Jacob's Tears Bracelet: Made in Peru
---
Seeing Couble is a double strand of Jacob's Tears beads with a bead and loop closure. It measures 7″ in circumference.
---
---
Description

Product Description

Seeing Double is a double strand of Jacob's Tears   It is hand made in Peru by the Naya Waserona Women's Group.

It measures 7″ in circumference. It has a bead and loop closure.

Remember FREE SHIPPING in the CONTINENTAL USA

Jacobs Tears also called Job's Tears is a member of the grass family. The seeds of Job's tears are tear-shaped and come in several colors including yellow, brown, white, and purple.  The roots and seeds are edible and medicinal.  For jewelry, the seeds are harvested and laid to dry.  Later they are strung in a great variety of ornamental jewelry and household decor.

The Naya Waerona Women's Group is a small group of related Shipibo women. They enjoy gathering seeds and beading together.  Lots of native Shipibo chatting and laughing while they work to produce delightful creations for you.

FREE Shipping in the continental USA.

What We Do

Our Products

Aina Moja is Kiswahili for "one of a kind". Each item is uniquely hand-made by African artists and therefore, one of a kind. Due to the fact that each item is handmade, actual item may vary slightly from product image.

Aina Moja products are sold at art and craft fairs throughout the summer and fall as well as in the Aina Moja shop in Belfast, Maine.

Aina Moja is a member of Fair Trade Gifts and is part of the Artisan Support project of Expanding Opportunities, a 501(3)c organization.

Our Money

Our items are purchased directly from artisans in Kenya, Africa and not at tourist stations. The purchase of the items supports individuals and families in Kenya.

Proceeds from sales of the items at Aina Moja help support the projects of Expanding Opportunities, including the Street Children Fund, STEMS, Camp Forest, Friends Across the Ocean, Books for Kenya, and Distance Learning Centers. Expanding Opportunities has the greater mission of increasing self-sufficiency through educational and charitable projects for people nationally and internationally.