« Return to Previous Page
Shine On – Hand Made Fair Trade Brass Bracelet Cuff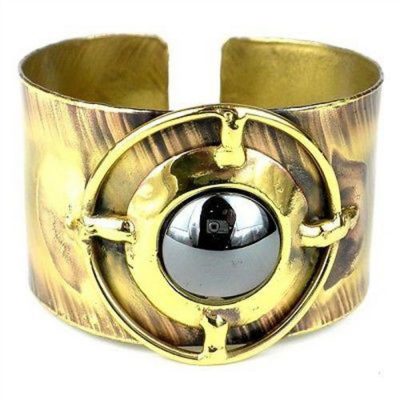 Shine On – Hand Made Fair Trade Brass Bracelet Cuff
---
Made entirely of gleaming brass, this unique cuff is made by South African artisans who use high heat to color the layers of brass, adding depth and beauty. No dyes are used. Each item is entirely handmade. Bracelet dimensions: 1.5 wide x 7 inches long.
---
---
Description

Product Description

A large hematite stone is inlaid in a compass of polished brass on this brass cuff handcrafted by South African artisans, who apply high heat to the metal to achieve the coloration and patterns.  Bracelet dimensions: 1.5 inches wide x 7 inches long.

As each is handmade, your bracelet may very slightly from the product image.

Made in South Africa by Brass Images. Brass Images was extablished in 1988 in the coastal town of Plettenberg Bay, South Africa, about a 4 hour drive out of Cape Town . The long lasting success of the project is due to the fact that the group develops new designs on a regular basis and pays great attention to detail and quality. Brass Images employs 15 people from the local community to help create high quality fashion jewelry. As demand grows, the organization hires and trains more artisans, providing sustainable income in an area in need of employment.

Solid brass and copper are the base materials of the product. By applying extreme heat, the artisans create the interesting patterns and effects on the jewelry. No dyes are used. Each item is entirely handmade and a one-of-a-kind piece of art.

What We Do

Our Products

Aina Moja is Kiswahili for "one of a kind". Each item is uniquely hand-made by African artists and therefore, one of a kind. Due to the fact that each item is handmade, actual item may vary slightly from product image.

Aina Moja products are sold at art and craft fairs throughout the summer and fall as well as in the Aina Moja shop in Belfast, Maine.

Aina Moja is a member of Fair Trade Gifts and is part of the Artisan Support project of Expanding Opportunities, a 501(3)c organization.

Our Money

Our items are purchased directly from artisans in Kenya, Africa and not at tourist stations. The purchase of the items supports individuals and families in Kenya.

Proceeds from sales of the items at Aina Moja help support the projects of Expanding Opportunities, including the Street Children Fund, STEMS, Camp Forest, Friends Across the Ocean, Books for Kenya, and Distance Learning Centers. Expanding Opportunities has the greater mission of increasing self-sufficiency through educational and charitable projects for people nationally and internationally.