« Return to Previous Page
Soapstone Hearts – Set of three – Etched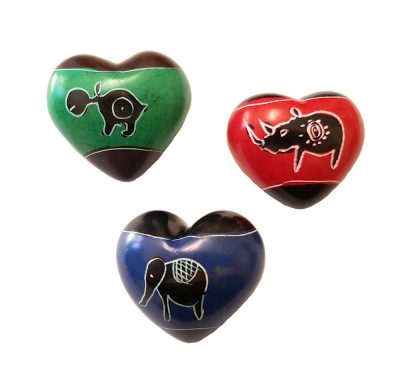 Soapstone Hearts – Set of three – Etched
---
Hand carved from soapstone in Kenya, this set is comprised of three hearts hand painted on both sides. Each heart is 1.75 inches in size.
---
---
Description

Product Description

A unique set of three Soapstone hearts.  Hand carved from soapstone in Kenya, this set is comprised of three hearts hand painted on both sides. Each heart is 1.75 inches in size. Colors and designs will vary from the image as each is handmade.

Remember FREE SHIPPING within the continental USA.

Soapstone is mined from great pits in the area surrounding Kiisi, Kenya. The mined soapstone is then delivered to carvers who carve sculptures from the natural stone for the wholesale market, the color of which ranges from cream, to pink, to brown, to yellow, to black, to a marbling of all of them. Once carved, finish craftspeople smooth rough edges of the soapstone with sandpaper dipped in water, dye, paint or leave natural then polish the piece to a high gloss or paint African motifs in brilliant colors with etched accents.

This piece was made by SMOLArt, a group of artists who live in the rural village of Tabaka, Kenya, the heart of soapstone crafts. The name, a shortened version of Small, Medium, and Large Artists, refers to the size of the soapstone products the artisans make, not their stature. Established in 1990, SMOLArt is a member of the WFTO, and as such assures that the artisans are paid a fair price for their work. In addition, the organization support community development by contributing to projects that improve living conditions, education, and health of their members and the village at large.

This piece is handmade and there may be slight variations from the image in the final product

What We Do

Our Products

Aina Moja is Kiswahili for "one of a kind". Each item is uniquely hand-made by African artists and therefore, one of a kind. Due to the fact that each item is handmade, actual item may vary slightly from product image.

Aina Moja products are sold at art and craft fairs throughout the summer and fall as well as in the Aina Moja shop in Belfast, Maine.

Aina Moja is a member of Fair Trade Gifts and is part of the Artisan Support project of Expanding Opportunities, a 501(3)c organization.

Our Money

Our items are purchased directly from artisans in Kenya, Africa and not at tourist stations. The purchase of the items supports individuals and families in Kenya.

Proceeds from sales of the items at Aina Moja help support the projects of Expanding Opportunities, including the Street Children Fund, STEMS, Camp Forest, Friends Across the Ocean, Books for Kenya, and Distance Learning Centers. Expanding Opportunities has the greater mission of increasing self-sufficiency through educational and charitable projects for people nationally and internationally.